Diwali is a very magical occasion with a kaleidoscope of colors, delectable food, the beauty of fireworks, and dazzling lights.
In the ancient Indian language Sanskrit, Diwali, or Deepavali as it is often known, means "row of lights." The entire event lasts five days and often occurs in October or November. The moon's position dictates the date, which changes by year.
The traditional greeting during the celebration is "Shubh Deepavali," which translates to "have an auspicious Diwali."
Diwali festivities in Australia
Over 500,000 people will celebrate Diwali across the country in 2022, with more than 700,000 Australians1 of Indian origin! There are numerous celebrations held all around the nation each year.
The Sydney Deepavali Festival in Parramatta, one of Australia's largest Diwali celebrations, is sponsored this year, in 2022, by Western Union. We are honored to support their message of optimism, which states that "the festival of lights genuinely stands for a reaffirmation of hope, a fresh commitment to friendship, religious tolerance, spreading the word of peace and harmony, and above all, enjoyment of "simple joys of life."
A special Ramayan presentation, Ravan, and fireworks are among the highlights of Sydney's cultural festival, which also features thrilling rides and dance performances, including one from an Indian company. Naturally, there will also be a wide selection of delectable dishes to sample. Also, admission is totally free!
Australia-wide festivities for Diwali will include the following: Melbourne's Federation Square often hosts a lavish extravaganza called the Victorian Festival of Diwali. A Diwali Mela is being held in Blacktown Showground in Blacktown, New South Wales. In Brunswick East, you may attend a Diwali Family Ball or even sign up for a Diwali cruise from Docklands.
Additionally, it's a great time to engage with your neighborhood. There might be fun Diwali events scheduled at your temple or in your neighborhood, or you might host your own party!
Family gatherings for Diwali, wherever they may be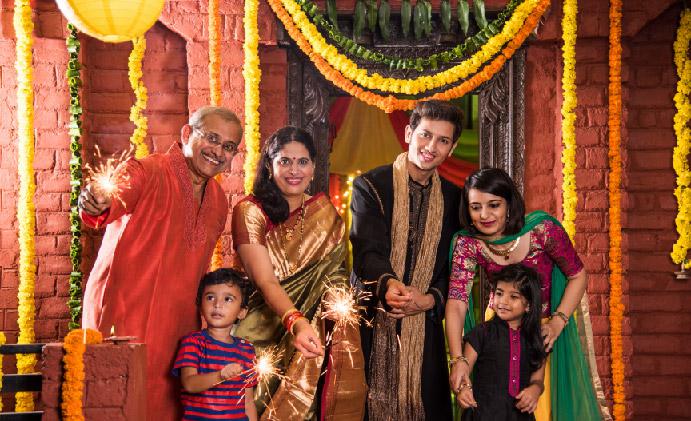 Diwali is a fantastic time for friends and family to get together because so many of its customs emphasize solidarity and cohesion.
Nothing compares to spending happy times with the people you care about the most, and holidays might make you miss distant relatives more than normal. So, no matter how far off you are from your loved ones, here are some suggestions to help you enjoy Diwali with them.
Giving Presents
It's customary to exchange special presents at Diwali, such as Lakshmi Ganesh coins, dried fruits, and idols, as a sign of your good wishes, respect, and affection for the receiver.
Sending gifts may cause you to worry that these priceless objects will get lost in the mail, especially if they are going abroad. In order to assist them to make their festivities especially special, you can want to send money to India or to loved ones abroad in the world as a gift or as a financial contribution. Of course, a present of money may seem especially suitable if your family is one of the many that particularly celebrates Lakshmi at this time of year! Using our money transfer app, Western Union makes it incredibly easy to send money to India or anywhere else in the globe. Additionally, you may be confident that any money you send will reliably reach your loved ones abroad because of our history of more than 170 years of service and global reach.
Diwali Activities to Reunite Your Disparate Family
1. Prepare food.
Establish video chats with your food-loving relatives who are located all over the world and prepare your Diwali meals together despite your distance. Enrolling in an online cooking lesson together could help you prepare and create excitement.
2. Bollywood magic is to be displayed
If cooking isn't really your thing, you might like to try a dance lesson. For instance, this Bollywood class from the Nupur Dance Academy in Sydney will help you get into the Diwali spirit. After that, play a unique festival set through video chat for your family to showcase your new skills!
3. Contest for Rangoli or House Cleaning
to share with the entire family, and snap pictures.
Making the most of the Diwali in Australia custom of cleaning your home is another suggestion. This is the ideal time to motivate any kids in your household who need a little extra help with cleaning up to organize their rooms. You could even hold a competition for the finest transformation among your entire family!