Looking for Australian jewellery can be a long and winding road. But look no further than Australia's own talent, which boasts some of the most talented and spectacular designs in the world. From classic, everyday pieces that complete your 9-to-5 look to statement earrings that add a pop of colour to your eveningwear, you should make room in your closet for these Australian brands.
Holly Ryan
Holly Ryan's eponymous brand was founded in 2010 by an Australian jewellery designer. The brand's core values are simplicity and wearability, with each piece carefully considered to capture modern architecture, sculpture, and conceptual art in a wearable manner. Holly has always been interested in sustainability, using recycled metals and ethical stones in her designs.
Ene sea
Nikki Ehrlich, a Sydney-based jewellery designer, began to notice an influx of women requesting custom pieces after crafting pieces for her own personal wear, which led to the creation of Enesea in 2019. The Bondi-inspired designs draw inspiration from the surrounding elements, transforming classic materials and revising contemporary styles. The pieces are distinguished by distinct gold hardware mixed and matched with shells, beads, and semi-precious stones, and have won the admiration of devoted fans worldwide, including Whitney Port and Florence Pugh.
Heart Of Bone
Heart of Bone, founded in 2013 by Emma Abrahams, is truly one-of-a-kind. The Australian jewellery brand recently caught the attention of pop sensation Billie Eilish, who wore it frequently during her Australian tour. Abrahams collaborates directly with Eilish to design custom jewellery, such as the iconic Bad Bunny Ring, which she wore during her Coachella performance. Emma Abrahams and Australian designer Toni Maticevski debuted their bespoke fine jewellery collaboration Heart of Bone x Maticevski earlier this year at Maticevski's Resort 2020 Couture Show in Paris.
Natalie Marie Jewellery
Natalie Marie Jewellery arose from a love of beautiful things, a natural appreciation for the handcrafted, and a desire to create. Natalie, a goldsmith with a background in fashion and fine arts, has created a label with an ethos based on connection, sentiment, and originality at its core. Her Sydney studio is where she creates the original pieces.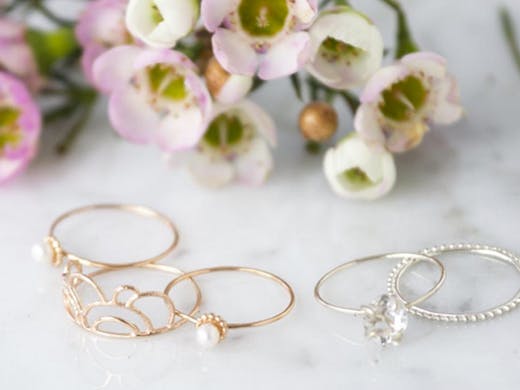 SARAH & SEBASTIAN
SARAH & SEBASTIAN is a Sydney-based contemporary jewellery label. Each piece is handcrafted in their studio from the finest materials. Sarah Gittoes is in charge of the creative aesthetic as well as the designs of the company's seasonal collections and collaborations. As Managing Director, Robert Sebastian Grynkofki oversees business operations, product development, and a talented team of in-house jewellers.
By Charlotte
By Charlotte, a spirited jewellery label founded in 2012 by Charlotte Blakeney, has quickly amassed a cult following. The evolution of the brand has been a natural and organic progression, inspired by Charlotte's love of semi-precious stones, crystals, symbols, and their deeper meanings. The By Charlotte signature Lotus Necklace, Charlotte's first design, has a devoted following, with Miranda Kerr, Tash Oakley, Rosie Huntington-Whiteley, Georgia May Jagger, Shanina Shaik, and Georgia Fowler wearing it.
Reliquia
Reliqua's designs are heavily vintage-inspired, derived from the word relic and the Spanish term for a family heirloom. Reliquia strives to create emotional relevance with pieces that are bold and sculptural while maintaining a fundamentally timeless quality, using high-quality metals and craftsmanship. The brand's spiral hoop earrings have gained a cult following, appearing on the wish lists of the fashion elite all over the world.
Jackie Mack Designs
Jackie Mack Designs, an Australian jewellery label founded by Jackie Damelian, creates beautiful and lust-worthy pieces that embody the modern woman. The collections are both precious and wearable, with delicate earrings, large hoops, dainty ear cuffs, and whimsical necklaces.
Natasha Schweitzer
The Schweitzer family has been at the forefront of Australian jewellery design since 1972. Dreams of a young woman learning the art of goldsmithing and gemmology in a male-dominated industry were nearly impossible when Marion Schweitzer founded the company at the age of 16. In 2018, Marion's daughters Natasha and Alexandra have rekindled their mother's dream by taking the brand to an international audience with cutting-edge designs and foresight.
YCL
Fabienne, the self-taught jeweller behind YCL, is inspired by art in everyday life. The brand's pieces are made from high-quality 14k gold fill and 925 sterling silver and are designed as an ode to women. The collections are also free of animal cruelty.
Christie Nicolaides
You've probably seen Christie Nicolaides' unique designs, which have a cult following around the world. Each of Nicolaides' collections has been heavily influenced by her artistic upbringing, Greek heritage, and a love of antiques, antiquities, and vintage runway jewellery. As an avid art collector and frequent travelling, Nicolaides brings her passion for art, fashion, and culture, as well as her own exotic personal aesthetic, to each themed collection.
Kate & Kole
Kate & Kole is a boutique jewellery label based in Newcastle that is Australian designed and made. The brand was founded by two creatives — Madalynne Clifton and Sara Spence — who wanted to create timeless, keepsake pieces that could be passed down to future generations. Kate & Kole's designs are sophisticated and one-of-a-kind and the brand have since expanded into gemstones, such as its horoscope collection titled 'Born,' a bridal collection, and, most recently, custom jewellery.
Avant Studio
Avant Studio, founded by Belle Maartensz and Briella Brown, not only curates a carefully curated collection of Australia's most sought-after jewellery and accessories, but they also have a collection of their own in-house pieces, Avant by Avant Studio. The brand's founders are also committed to environmental sustainability, ensuring that their packaging is 100% plastic-free, with all elements made of recyclable paper and plant-based and biodegradable satchels.