Australia is not only the world's smallest continent and sixth-largest country, but it is also a tourist hotspot for all adventurers. Its numerous alternatives for exploring all types of places make it an appealing destination for travelers from all over the world. And why wouldn't it? There are numerous sites to discover in Australia, ranging from exhilarating to calm, and this lovely country is a one-stop shop for all types of travel interests. Australia's sheer immensity is astounding. It is one of the world's most megadiverse countries, with an area of nearly 7.6 million square kilometers.
What draws visitors back to the country time and again is how slow time moves here, surrounded by the most welcoming locals. Australia's coastline has something for everyone, from rugged cliff lines and sheltering bays to huge swaths of golden beach. Surprisingly, the coastline is peppered with some of the world's most gorgeous beaches. Having said that, here are the top locations to visit in Australia. Rest assured that while some of these locations may be less well-known than others, they are equally beautiful and significant.
1. The Rocks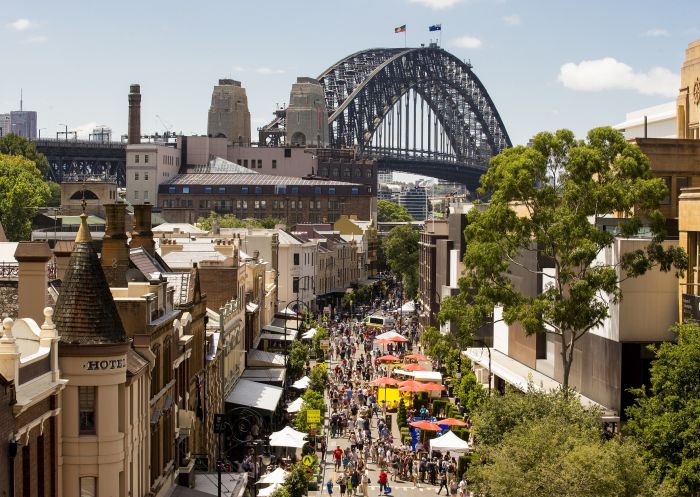 The Rocks are the only location from which modern Sydney has arisen.
Since the European immigrants' arrival in 1788, this location has provided a foundation for them to build their opulent colonial homes and businesses.
The setting is charming in part because it is close to Sydney Harbor.
Everything you need to launch your vacation schedule is to see these stunning structures and captivating sights.
You may have noticed that this location offers more than simply scenery; it also has a wide range of amenities like delectable meals and engaging activities like Sydney Harbour jet boat thrills. What are you waiting for, then? Make your ultimate vacation plans and then hunt for the most affordable means of reserving your airline tickets from India to Sydney (and back).
Best Time To Visit: Throughout the year
Timings: No timing restrictions.
Distance from Nearest Airport: The Rocks is 15.3 Km away from the Sydney Airport (SYD) which takes about 22 minutes to commute.
2. Melbourne
An ideal location for savoring delectable dishes and taking in the cozy atmosphere of cultural diversity. It's possible that many people already know that Melbourne is known as the "Sporting Capital of the World." Despite this, the city has a lot to offer for all types of visitors who have different interests. Melbourne is among the world's most livable cities, so it should come as no surprise that it is one of Australia's most sought-after travel destinations.
Melbourne offers a wide variety of activities. The graffiti-covered streets, savory coffee shops, sporting events, galleries, live music venues, festivals, and fashion shows To fall in love with the city, you only need to visit the National Gallery of Victoria, arcades, federation square, royal botanic gardens, Great Ocean Road, St. Kilda beach, and bayside locations. Additionally, be sure to have a road map of your itinerary prepared before looking into your options for flights from India to Melbourne.
Best Time To Visit: September-November; March to May
Timings: No timing restrictions.
Distance from Melbourne Airport: 23.1 Km which takes around 30 minutes to cover the distance.
3. The Great Barrier Reef
Another fantastic tourist site in Australia that you simply must visit. It's interesting to note that this location is considered one of the seven wonders of the world and is classified among the top world heritage sites. The Great Barrier Reef, which consists of approximately 2,900 distinct reefs and 900 islands, is the "world's largest coral reef system." The area's surface measures up to 2300 km2, which would seem to be sufficient for a traveler to spend a full day exploring.
In addition to providing you with some breathtaking views, the majestic building is a prime spot for nature lovers and people who enjoy water sports, particularly diving and snorkeling. Plan your journey to the Great Barrier Reef right away and don't delay. Before looking into the finest flights from India to Cairns, you need also take other elements into account and make the necessary reservations.
Best Time To Visit: June to October
Timings: Not mentioned
Distance from Cairns International Airport: 259 km
4. Chinatown
As the name implies, you may experience a little bit of China at this tourist destination in Australia. One of Australia's most fascinating urban enclaves is China Town, which is situated in the southern portion of Sydney's CBD. As a result of its early 1800s heritage, people can today experience Chinese cuisine and culture here.
Additionally, this neighborhood offers something for everyone, from vibrant architecture and lanterns to traditional Chinese cuisine and markets. Additionally, this location is a part of the vast Haymarket suburb complex while being close to Darling Harbour and Central Station. So, Sydney's Chinatown is the spot for you if you want to go somewhere unusual but memorable.
Best Time To Visit: September – November; March-May.
Timings: Open 24 hours
Distance from Sydney Airport: 12.1 km
5. The Sydney Opera House
The Sydney Opera House is a must-see while discussing Australia's top tourist destinations. It was finished in 1973, making it one of the most recognizable buildings in the world and a UNESCO World Heritage Site. The opera house features numerous performance spaces in addition to a dining area, a bar, and a learning facility.
More than 1,500 performances are held at the Sydney Opera House each year and more than 8 million people from across the world visit. Its intricate architectural feat, with 75% of the site submerged in water, is undoubtedly something to see. The building is built in an odd shape like enormous shells. Even though the location is undergoing a 10-year repair project, it will still be usable and open to visitors.
Best Time To Visit: September – November; March-May.
Timings: 9 AM – 5 PM
Distance from Sydney Airport: 15 Km which takes about 20 minutes to cover the distance.
6. Hyde Park
In Sydney, Australia, Hyde Park should not be missed. Large and offering a green haven in the middle of the metropolis, the parklands are present. Everyone will find something to enjoy among the gardens, playgrounds, sculptures, and fountains. One of the many offered routes allows you to ride a bike or stroll through the park.
Hyde Park's proximity to several of Australia's leading tourist destinations is an extra plus. Numerous monuments, statues, works of art, and different water features can be found there. It's interesting that this park, which has been around since the country's founding, is still as gorgeous as ever. This location, which is in the center of the city, can draw all different types of visitors to Sydney.
Best Time To Visit: Mar-May, Sep – Nov
Timings: Open 24*7
Distance from Sydney Kingsford Smith Airport: 13.3 KM
7. Mountain Kosciuszko
At 2228 meters above sea level, Mount Kosciuszko is the tallest mountain in Australia. Explorer Paul Edmund de Strzelecki, a Pole, gave the peak its name in 1840. It is a popular tourist attraction in Australia for hikers, skiers, and snowboarders and is situated in the state of New South Wales Snowy Mountains. An interesting detour could be added to your basic itinerary if you decide to climb or ride to Mount Kosciuszko.
The mountain is wild and remote while being close to a large metropolis, and snowfields reach all the way down to the foothills. The hike also provides a number of picnic areas along the way for those who believe in pausing to take in every last bit of natural beauty. Plan your journey to this location accordingly now that it's a hassle-free process.
Best Time To Visit: September to November
Timings: 8:30AM-4:00PM
Distance from Albury Airport: 235.2 km
8. Fraser Island
One of the unusual locations on earth where you can find rainforest growing through the sand. One of the most well-liked tourist spots in Australia is Fraser Island. Fraser Island is a sizable sand island that runs for 123 kilometers off the coast of Queensland. The island is renowned for its animals, woods, and isolated beaches. Fraser Island offers a variety of man-made attractions in addition to its natural ones, such as Lake McKenzie and Eli Creek.
To explore this area of the country, the visitor can choose to self-drive or join a group on a guided tour. This location, which is the largest sand island on the globe, is well-known not only in its own country but also throughout the entire world. Finding a flight from India to Queensland doesn't have to be difficult; just browse for the best options here.
Best Time To Visit: March-September
Timings: Throughout the day
Distance from Airport: 80.2 km
9. George Street
The area was important in the growth of Sydney city throughout its era. The street, which runs through Sydney's Central Business District, is home to numerous office buildings, retail establishments, and dining establishments. In Australia, George Thoroughfare is a bustling street full of life and activity. The street's illustrious past dates to the early 1800s, when it was vital in Sydney's growth.
Today, George Street is one of the busiest and most well-liked tourist destinations in Australia. The location has emotional resonance for local residents and historical significance. Since the area is well-developed, the investigation is possible there. Even the roads that the Europeans built are included in it. These roads are the oldest in the nation that is still in use and properly maintained because of this.
Best Time To Visit: August-November
Timings: 9:00 AM-5:30 PM
Distance from Airport: 8.5 km
10. Kangaroo Island
One of Australia's most picturesque and interesting locations is Kangaroo Island. The island is home to a wide variety of indigenous wildlife, including kangaroos, wallabies, sea lions, and koalas, and has over 4,405 square kilometers of natural bushland. Beautiful lighthouses that provide breathtaking ocean views may be found all around the island's coastline. One of the planet's most diverse and fascinating locales, it is the third-largest island in Australia.
Tourists also swarm to the island to take advantage of its many natural features, which include its breathtaking beaches and dramatic cliffs. This island is renowned for allowing visitors to unwind in the lap of Mother Nature. This location attracts a lot of tourists because it provides guests with a worthwhile break from their regular lives. So now is your time to explore Kangaroo Island's splendor while making travel arrangements to Australia. Search for Adelaide, India, flight options, and secure the ideal one for you.
Best Time To Visit: March-May
Timings: 9 am-3.30 pm
Distance from Kingscote Airport: 32.1 km
11. King's Cross
The King's Cross is a well-known location that is the center of all late-night plans. It is one of the major transit hubs in Australia and is located in the center of Sydney. It is one of the most well-liked tourist locations in Australia and provides maintenance for trains, buses, and taxis. Each year, millions of people from all around the world enter through its doors. It's a fantastic site to begin your exploration of Sydney.
Speaking about the area's main attractions, King's Cross is home to Sydney's two most well-known sites: the enormous Coca-Cola billboard and the dandelion-shaped El Alamein Memorial Fountain. This location has every piece of technology imaginable to keep you entertained. King's Cross has it all, from quaint taverns to swanky theaters, from exquisite dining establishments to pumpkin nightclubs, ready to put everything on your platter. It can be difficult to determine where to begin your travels because there is so much to see and do.
Best Time To Visit: September-November; March-May
Timings: 24 hours open
Distance from Sydney Kingsford Smith Airport: 13 km
12. Kakadu National Park
Kakadu National Park has the biggest range of ecosystems to offer to its tourists, staging its natural habitat in the spotlight. This is not only Australia's largest national park; it is also one of the biggest tropical areas on earth. One of the oldest and longest-lasting cultures on earth can be found in this area, which is known for both its natural and cultural heritage. It is also among the most visited tourist destinations in Australia and was included on the World Heritage List in 1981 due to its exceptional cultural and ecological significance.
In addition, Kakadu is a significant location for conservation because it is home to a variety of habitats. Kakadu provides visitors with an unrivaled animal encounter, a rich indigenous culture, and a breathtaking landscape with its combination of rainforest, wetlands, and spinifex-covered hills. The vast savanna woodlands, open forests, floodplains, mangroves, tidal mudflats, coastal habitats, and monsoon forests can all be explored if you decide to travel to this location.
Best Time To Visit: May-September
Timings: Open 24 hours
Distance from Darwin International Airport: 149.2 km
13. Port Arthur
The ruins of 30 historic structures from the 18th and 19th centuries make up the Port Arthur UNESCO World Heritage Site, which is renowned for being both a genuine visual delight and for its historical significance. It is a small town on the Tasman Peninsula in Tasmania, Australia, well-known for its abandoned prison and convict-era remains. It is one of the best places to visit in Australia because of its breathtaking coastal scenery and plenty of natural species, including dolphins, penguins, and seals.
Another benefit of this place's existence is its geographic position. This building, which is surrounded by a rocky cliff and the Tasman Sea, stands tall and solidly with its unusual stone walls. Make your trip to Australia more educational by learning about its lengthy history and taking in the atmosphere of the country. Prepare to schedule your upcoming flights from India to Port Aurthur and take in the splendor of this top travel location.
Best Time To Visit: December-March
Timings: 8:00am until 5:00pm
Distance from Beaumont/Port Arthur Airport: 10.7 km
14. Sydney Harbor
A traveler should never skip Sydney Harbor while touring this city. It is an aquatic paradise. This location, which spans a surface area of 21 square miles (54 square kilometers), provides an outstanding perspective and is home to a paradise of breathtaking landscapes, historical landmarks, national parks, and gorgeous beaches. The Sydney Harbor offers you access to other significant Australian tourist destinations nearby in addition to its own natural beauty and tranquility.
The Sydney Harbor has a lot more to offer than one may anticipate, including the Sydney Opera House, Manly, Watsons Bay, Taronga Zoo, and the Sydney Harbour Bridge. In all honesty, taking the Sydney ferry is the best way to take in this location's magnificence. You can therefore go swimming at the authorized locations as you relax and take in the views through the sail.
Best Time To Visit: December – February
Timings: 24/7
Distance from Sydney Airport: 23.5KM
15. Blue Mountains National Park
The Blue Mountains, which are located 38 miles away from Sydney, are another place you must visit while traveling around Australia. It is one of the most well-liked tourist spots in Australia's New South Wales region, and with good reason. There are many different types of landscapes and ecosystems in the park, such as sandstone escarpments, eucalyptus forests, and rainforests.
The location is well-known among tourists because it receives a lot of daily traffic. The chance to have a close-up look at the three sisters "Meehni," "Wimlah," and "Gunnedoo" is one of the location's highlights. In fact, it is one of the destinations that draw the greatest number of tourists. The echo point overlook is another fascinating location that might astound you with its natural beauty. In addition to its alluring aura, it also offers exquisite panoramic splendor (quite literally).
Best Time To Visit: September-October
Timings: 9:00AM-4:30PM
Distance from Sydney Airport: 118.1KM
The top 15 tourist destinations in Australia are covered in that. Australia is the tourist place to go if you want an outstanding vacation experience. It has something for everyone with its well-known beaches, breathtaking landscapes, and cosmopolitan cities.