Australia, the world's smallest continent and biggest island, is a traveler's dream. Australia is a full package with its coral reefs, gorgeous rain forests, red-earthed national parks, stunning beaches, and scorching deserts. In this nation, you may relax, have fun, and have a fantastic holiday. With so many sites to visit in the lovely yet strange Australia, here are all the thrilling and delightful Australian tourist attractions for your next holiday Down Under!
Here are our top suggestions for seeing the country of kangaroos, including beaches, national parks, museums, and tourist attractions! To have a great trip to Australia, make sure you don't miss out on the finest Australian tourist attractions. If you have the time on your next vacation to Australia, you should visit any or all of the following places:
Great Ocean Road – Spectacular Formations
Kakadu National Park – Witness Rich Wilderness
Blue Mountains National Park – For A Day Trip
Fraser Island – For A Pleasant Weather
Uluru – Striking Visuals
Heide Museum of Modern Art – A Unique Place
Tasmania's Museum of Old and New Art – Popular Arts
Carlton Gardens – The Oldest Sites
Sea World Marine Park – Amuse Yourself
Skiing At Snowy Mountains – Enjoy Snow Sports
Sky Diving In Melbourne – A Breathtaking Experience
Melbourne Chapel Street – For Shopaholics
Pitt Street Mall In Sydney – An Iconic Place
Queen Street Mall In Brisbane – An Instant Delight
King Street In Perth – Lots Of Choices
Sydney Opera House – An Architectural Masterpiece
Harbor Bridge – An Engineering Marvel
Great Barrier Reef – Scuba Diving Hub
Daintree National Park – Nature's Delight
Broome – The Once Pearl Capital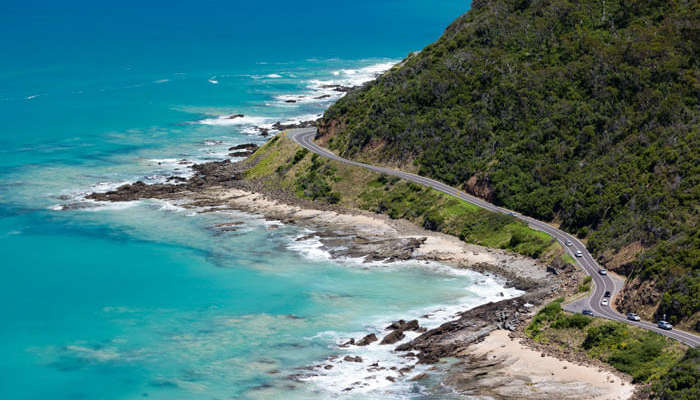 The Great Ocean Road, located in Victoria, is regarded as one of the most spectacular and best-driven highways in the world. Don't miss the amazing limestone stack formations known as the Twelve Apostles, which sit alongside the gorgeous turquoise ocean. The 243-kilometer trip to Australia from Torquay to Allansford is a pleasure in and of itself.
Things to look out for:
Port Campbell National Park, Otway National Park, beautiful rain forest, hiking routes, and beautiful waterfalls If you're lucky, you could even see some of Australia's iconic fauna, such as kangaroos and emus.
Things to do:
You can choose to tent at the breathtaking site or participate in beach sports.
How to Get There:
Taking public transportation to the Great Ocean Road entails a train ride followed by a bus ride. Take the V/Line train from Melbourne's Southern Cross Station to Geelong. This travel will take around an hour.
Kakadu National Park is Australia's biggest national park and a World Heritage Site. Kakadu National Park, the world's second-biggest, is one of the best places to see wildness and one of the most popular tourist destinations in Australia.
Things to look out for:
There are 300 different bird species, native rock art, stunning waterfalls, rivers, gorges, mangrove swamps, and a remarkable array of animals including wallabies, saltwater crocodiles, and dingoes.
What to do:
Visit Jim Jim Falls, the Yellow Water crocodile marshes, and the Twin Falls and Maguk hikes.
How to Get There:
Flight hubs are located in Darwin and Alice Springs; from there, you may hire a car or join a tour to go to the park. From Darwin, take the drive. Self-drive from Darwin on the Stuart Highway, then the Arnhem Highway, if you enjoy road trips.
Another UNESCO World Heritage Site, the Blue Mountains National Park, is a popular day excursion from Sydney. It is called because of the blue haze emitted by the numerous eucalyptus trees, which creates a stunning panoramic picture! This park, one of the most well-known trips to Australia, should not be missed.
Things to look out for:
Three Sisters — a 900-meter-high sandstone rock structure with spectacular views of canyons, artwork, and unique animal species.
Things to do: Hike, abseil, rock climb, mountain bike, and horseback ride on the spectacular glass-roofed Katoomba Railway, the world's steepest passenger railway via a cliff-side tunnel.
How to get there:
From Sydney, use the M4 and the Great Western Highway to Glenbrook, the southern side of the Lower Grose Valley, Katoomba, and Blackheath. The Southern Blue Mountains may be reached through Oberon or Jenolan Caves.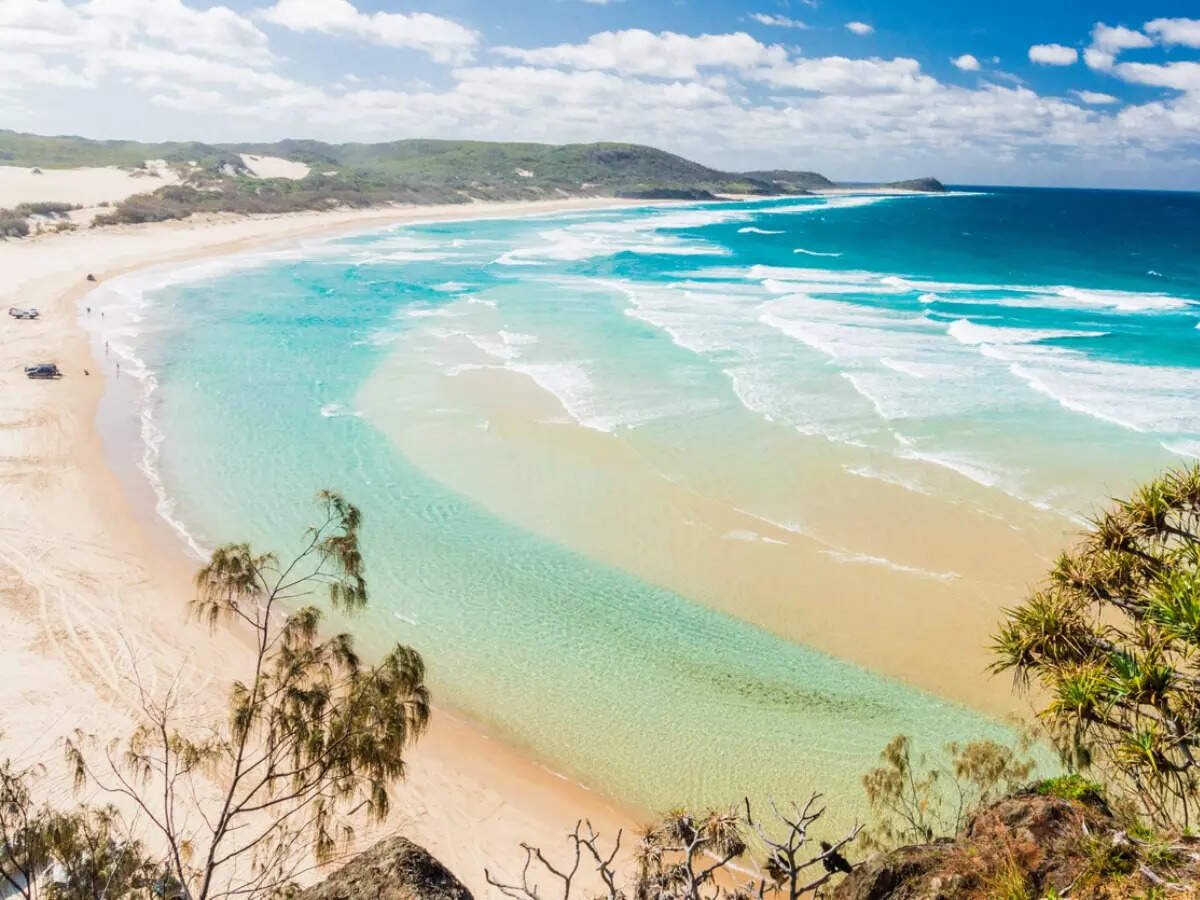 Fraser Island, located just a short boat ride from Hervey Bay, is the world's biggest sand island and a popular tourist destination trip to Australia. It provides one of the most unique four-wheel-drive excursions in Australia. Ferries are also available from Rainbow Beach and Hervey Bay. In fact, because of the wonderful weather in March, it is one of the greatest destinations to visit in Australia.
Things to look out for:
Lush rain forests with an incredible diversity of species, sand dunes, freshwater lakes and creeks, multi-colored sand cliffs, piles of shipwrecks along the magnificent sea shoreline, and marine life including dolphins, whales, and sharks.
How to Get There:
Driving north from Sydney takes around 14 hours, and driving south from Brisbane takes about 3.5-4 hours. Alternatively, you may travel to Hervey Bay, the starting point for tours to the island, from Brisbane, Melbourne, or Sydney. Hervey Bay is also accessible by all major bus and train lines along the east coast.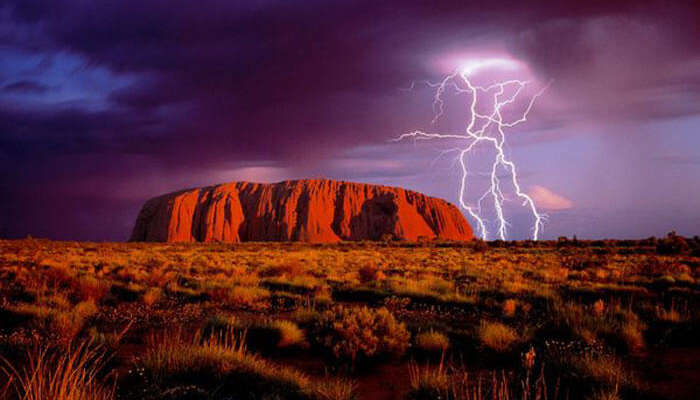 Uluru, or Ayers Rock, is another popular tourist destination in Australia. It is one of the world's biggest monoliths. This magnificent red monolith sandstone rock, meaning shadow place,' rises moreover 348 meters tall and is located within Kata Tjuta National Park. This is one of the greatest places in Australia for hitchhiking.
Things to see:
A spectacular sunset as the rocks change hues, as well as the countryside surrounding the rocks.
Things to do:
Take a fantastic tribal tour of the place guided by Aboriginal guides and rangers from the nation.
How to Get There:
From all Australian major cities, you may travel to Uluru – Ayers Rock on Qantas or Virgin Australia.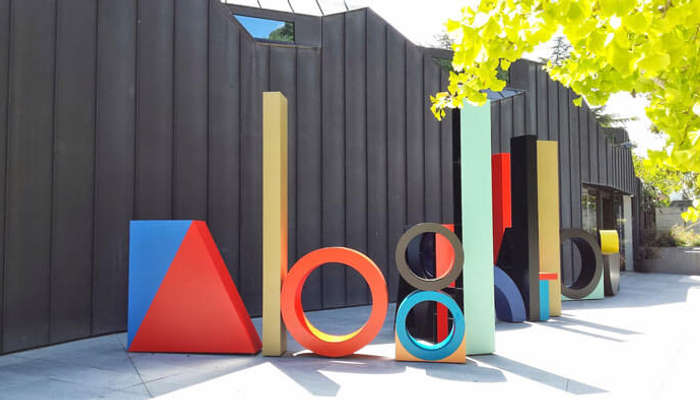 The Heide Museum of Modern Art combines a contemporary art gallery, a historical art museum, and a heritage park. The best reason to visit this one-of-a-kind museum is its breathtaking setting on a large expanse of green countryside. It is a must-see destination in Australia and is an important element of the tourism industry.
Things to do:
Be captivated by Melbourne's living history at Heide, take a stroll around Heide's huge tranquil environment, and a trip to Australia into the past.
How to Get There:
Train to Heidelberg station (Hurstbridge line) and bus #903 (Mordialloc headed) to Heide. Disembark at the stop on Bridge Street/Manningham Road. Travel time by bus is estimated to be 5-10 minutes. To get to Heide, take the pedestrian walkway adjacent to the Helmet sculpture in Banksia Park.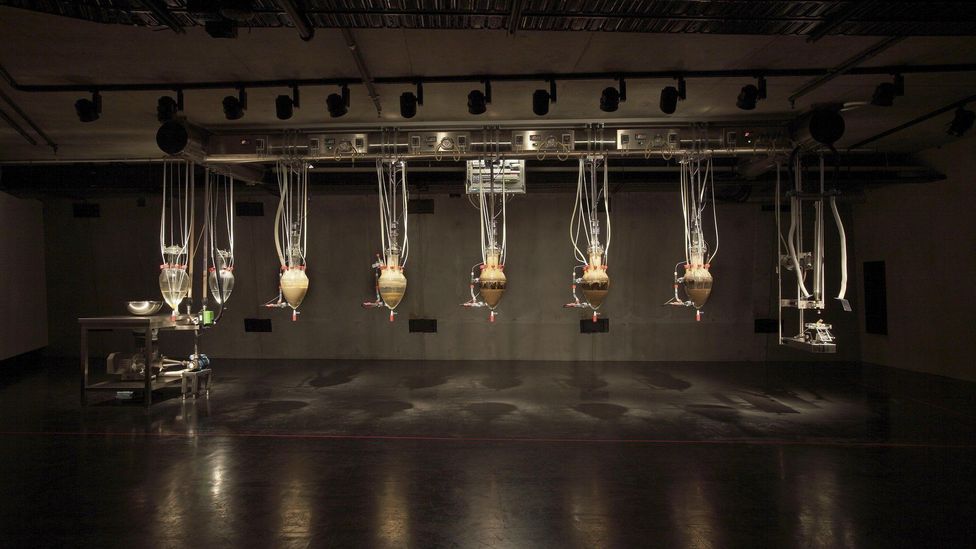 Tasmania Museum of Old and New Art is one of Australia's oldest museums. While it is accessible by car or plane, a 30-minute boat journey from Hobart is the most common method to see this museum. It's well-known for some of the Aboriginal tribes' most unusual, rare, and privately-held collections.
Things to do:
Enjoy the numerous works of magnificent art on show, as well as the wonderful dishes supplied by the grounds' multi-cuisine restaurants.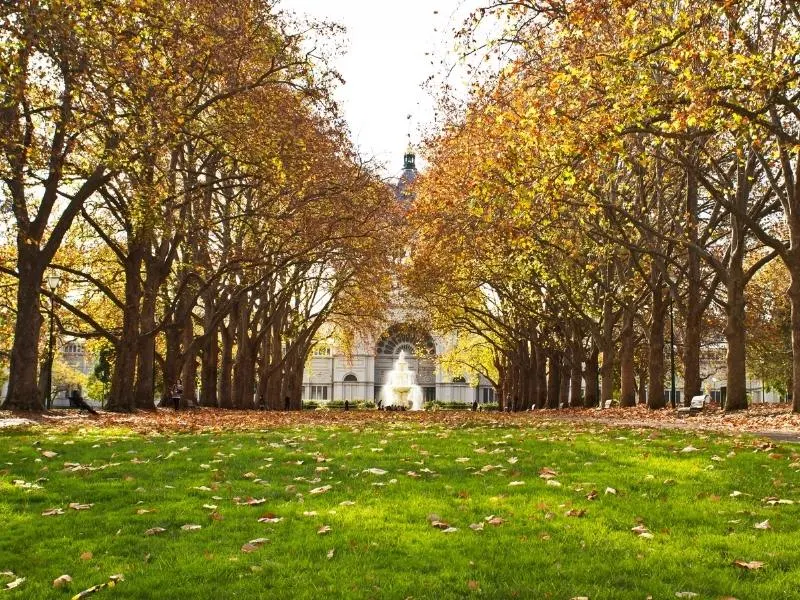 The Carlton Buildings and the Royal Exhibition Building are two Australian tourist attractions that are World Heritage sites. They were built in the 18th century and are one of the oldest tourist destinations in Australia. This has to be at the top of the list of unusual tourist attractions in Australia!
Things to do:
Spend time admiring the flower fields, attractive lakes, and creative fountains; walk through the collection of Morton Bay fig trees erected by local aboriginals; visit the Melbourne Museum, and view the Victorian era Hochgurtel Fountain and round French Fountain.
Australia's Other Museums:
The National Museum of Australia (Canberra), the Australian Museum (Darlinghurst), the Australian War Memorial (Canberra), the Powerhouse Museum (Ultimo), the Jewish Museum of Australia (Melbourne), the Art Gallery of New South Wales (Sydney), the Museum of Sydney (Sydney), and the Art Gallery of South Australia are all located in Canberra (Adelaide)
Where to go:
12-Melbourne Museum/Nicholson St (Fitzroy) is 163 meters distant and can be reached in 3 minutes on foot.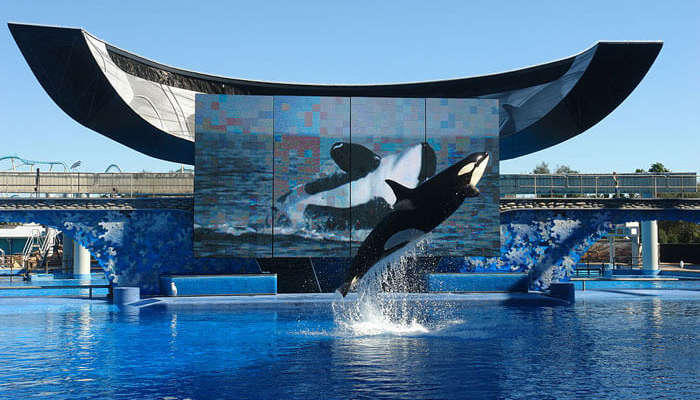 Sea World is Australia's largest marine park, and it appeals to both adults and children. It's a fantastic amusement park that will easily keep you entertained for the entire day. Polar bears, penguins, and tiny sharks have all been spotted.
What to do:
Take the monorail for a bird's-eye view of the park; get tickets for some of the park's thrilling shows by dolphins, sea lions, and water-ski ballet. Try the sea-themed rides, such as the roller coaster.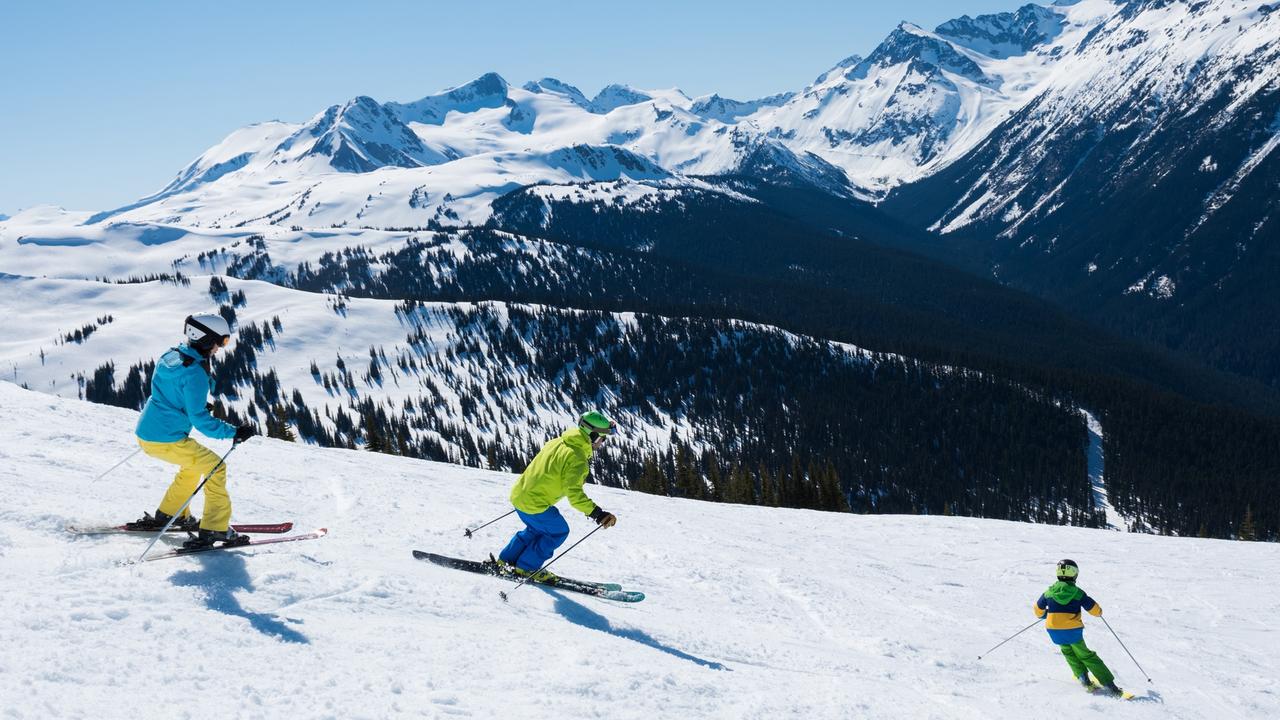 The Snowy Mountains area is Australia's premier winter sports destination. This region is known for its pure alpine wildness and is home to Mt Kosciuszko, one of the continent's highest summits and its only glacier lake. You'll find lots of ways to have fun both on and off the snowfields here. So, for an exciting trip to Australia on your vacation, travel directly to one of the top locations to see in Australia!
What to do:
Learn to ski, snowboard, tubing, and snowshoe. After dusk, ride the slopes for some beautiful vistas and thrills. Off the slopes, take a picturesque chairlift ride and explore the village and Yarrangobilly's old caverns. Enjoy the wonderful local wines, schnapps, beers, and delectable foods.
How to Get There:
There is no direct flight from Sydney to the Snowy Mountains. You may, however, take the train to International Airport Station, walk to Sydney Airport, fly to Cooma, and then drive to Snowy Mountains.
If you're an adventurous spirit wandering through Melbourne, you should definitely check out the several skydiving schools. It's a mind-blowing experience as you free fall over to some of the most beautiful scenery just below you.
What to do:
Skydiving above the Yarra Valley or driving along the Great Ocean Road.
Melbourne, a shopper's paradise, entices both shopaholics and visitors with its spectacular retail establishments that exude elegance, flair, and luxury. If you're looking for some great shopping, this is undoubtedly one of Australia's most well-known destinations.
Things to do:
In Chapel Street, look for opulent, upmarket retail stores, world-class restaurants, and a variety of performances to keep you engaged. On Brigade Road, keep an eye out for stylish collections from local designers.
How to Get There:
Tram route 78 runs the length of Chapel Street between Richmond and St Kilda. Chapel Street is served by tram routes 3, 5, 6, 58, 64, and 72. South Yarra, Prahran, Windsor, and Balaclava railway stations on the Sandringham line are all within 300 meters of Chapel Street.
Sydney, one of the most recognized towns in Australia, holds numerous records for being the most famous emblem of Australia's tourist attractions, one of which is being well-known for shopping. You could do as much shopping as you want while you're here. The retail streets are an extra bonus!
What to do:
Check out the Pitt Street Mall, which is a one-stop-shop for several specialty retailers located nearby. You'll need more than a day to explore the area's shopping, which includes Centre Point, Imperial Arcade, Sky Garden, Glasshouse, Mid City Centre, Westfield Sydney Central Plaza, and Strand Arcade.
How to Get There:
The nearest station to Pitt Street Mall is David Jones Castlereagh St Stand B, which is 273 meters away and a 4-minute walk away.
If you're visiting Brisbane, don't miss out on the Queen Mall, which is home to some of the world's greatest fashion brands, including Myer Centre. If you're a fashionista, you'll fall head over heels for this city of delights!
What to do:
Shop for various sorts of apparel, from the most exquisite to the most affordable. Queen Mall and its neighboring streets are mostly focused on catering to your fashion tastes.
How to get there:
Ann Street Stop 7 At Anzac Square (Temp Closed) is 527 meters distant and takes 8 minutes to walk. Eagle St App Queen St (Stop 65) is 669 meters distant and a 9-minute walk away. Queen Street Stop 66 Near Adelaide St is 904 meters distant and a 12-minute walk away.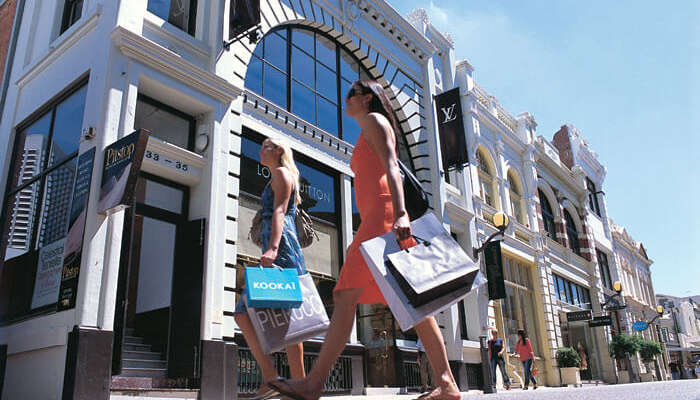 In terms of the overall retail experience, Perth provides a variety of possibilities to travelers. Perth has everything, whether it's the number of brands or the multitude of options in many items, including some fantastic souvenirs.
Things to do: If you're on a tight budget, you might visit the Harbor town, which is home to several manufacturing stores. People who want to indulge and show their flair may visit the magnificent streets of Murray and Hay to locate the world's finest brands.
How to get there:
The nearest stations to King Street are Murray St Raine Square Red Cat 23, which is 179 meters away and a 3-minute walk away.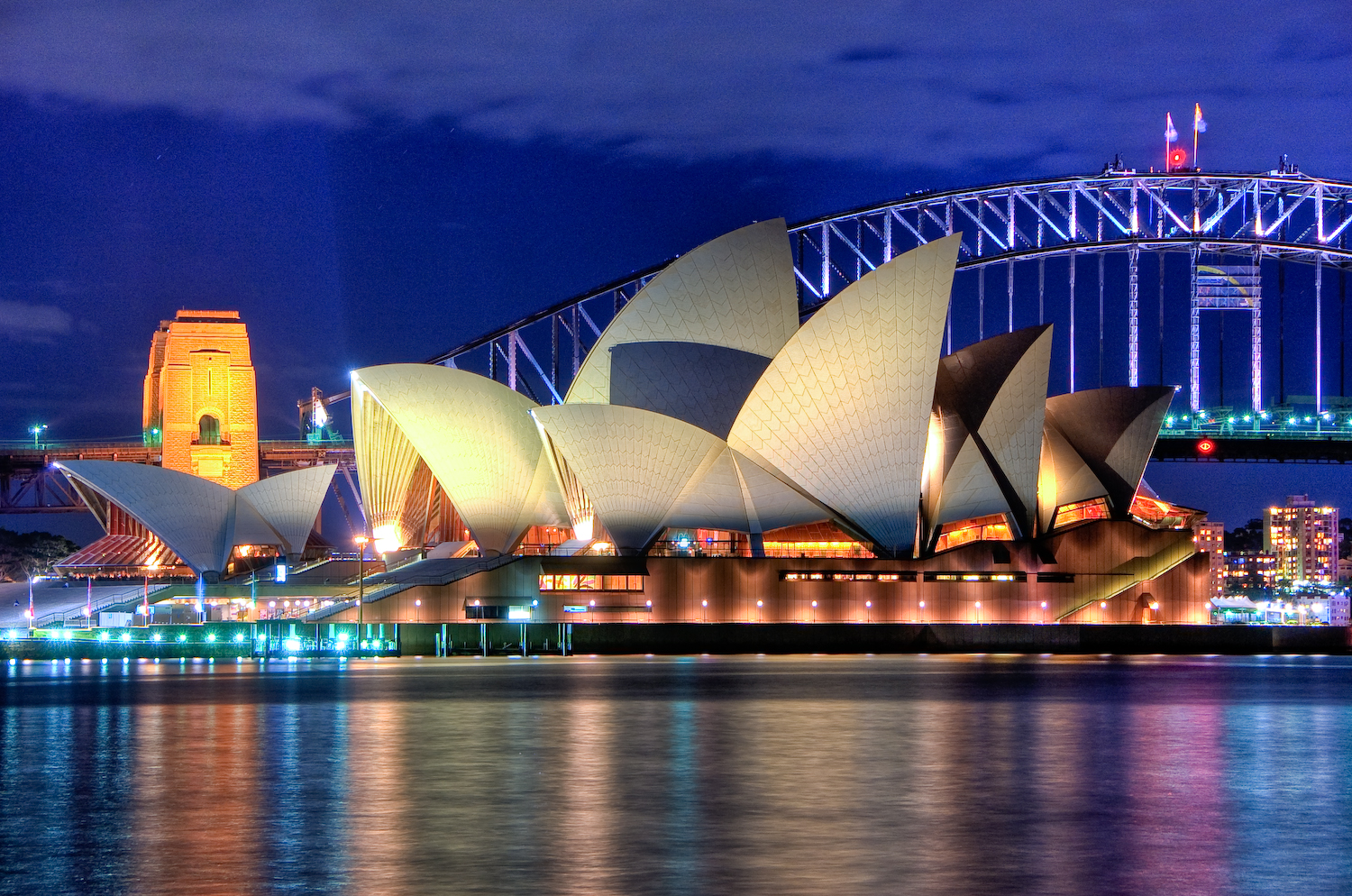 The Sydney Opera House, surrounded by the magnificent Harbor Bridge and the stunning Royal Botanic Gardens, is one of the most famous Australian tourist sites. This architectural marvel by mankind, considered a century's architectural masterpiece, contains several venues built to mimic the image of a massive sailing ship and resemble billowing sails or shells.
What to do:
Take a tour of the facility, which includes theatres, studios, a performance hall, exhibition spaces, and a cinema, then have a delicious Australian lunch at one of the outstanding restaurants.
How to get there:
Saifi Hospital is 235 meters away and a four-minute walk away.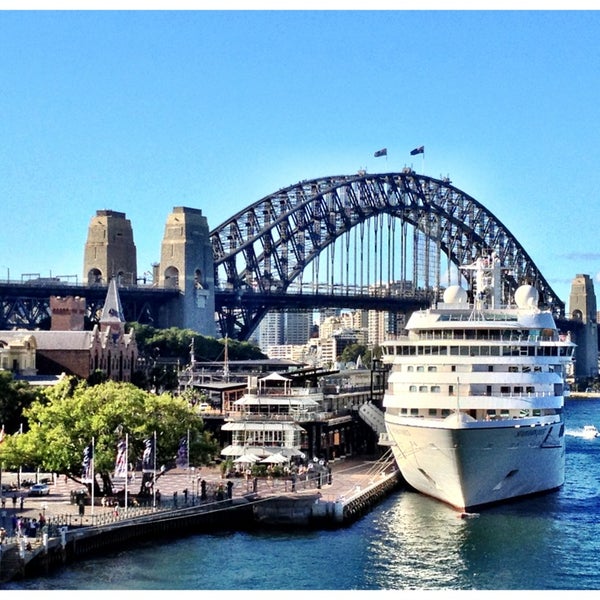 The Sydney Harbor Bridge is one of the most famous tourist attractions in Australia. The bridge, which rises 134 meters above the port, is lovingly known as "the Coat hanger." This technical masterpiece also happens to be the world's biggest steel arch bridge.
Things to do:
Take in the breathtaking cityscape from the bridge, climb the bridge with a guide, and learn about the bridge's history and construction at the museum located on the southeastern pier.
How to Get There:
The bridge may also be accessed from the south via Cahill Walk, which runs beside the Cahill Expressway. Pedestrians can reach this promenade by a set of steps or a lift from the east end of Circular Quay. It is also accessible from the Botanic Gardens.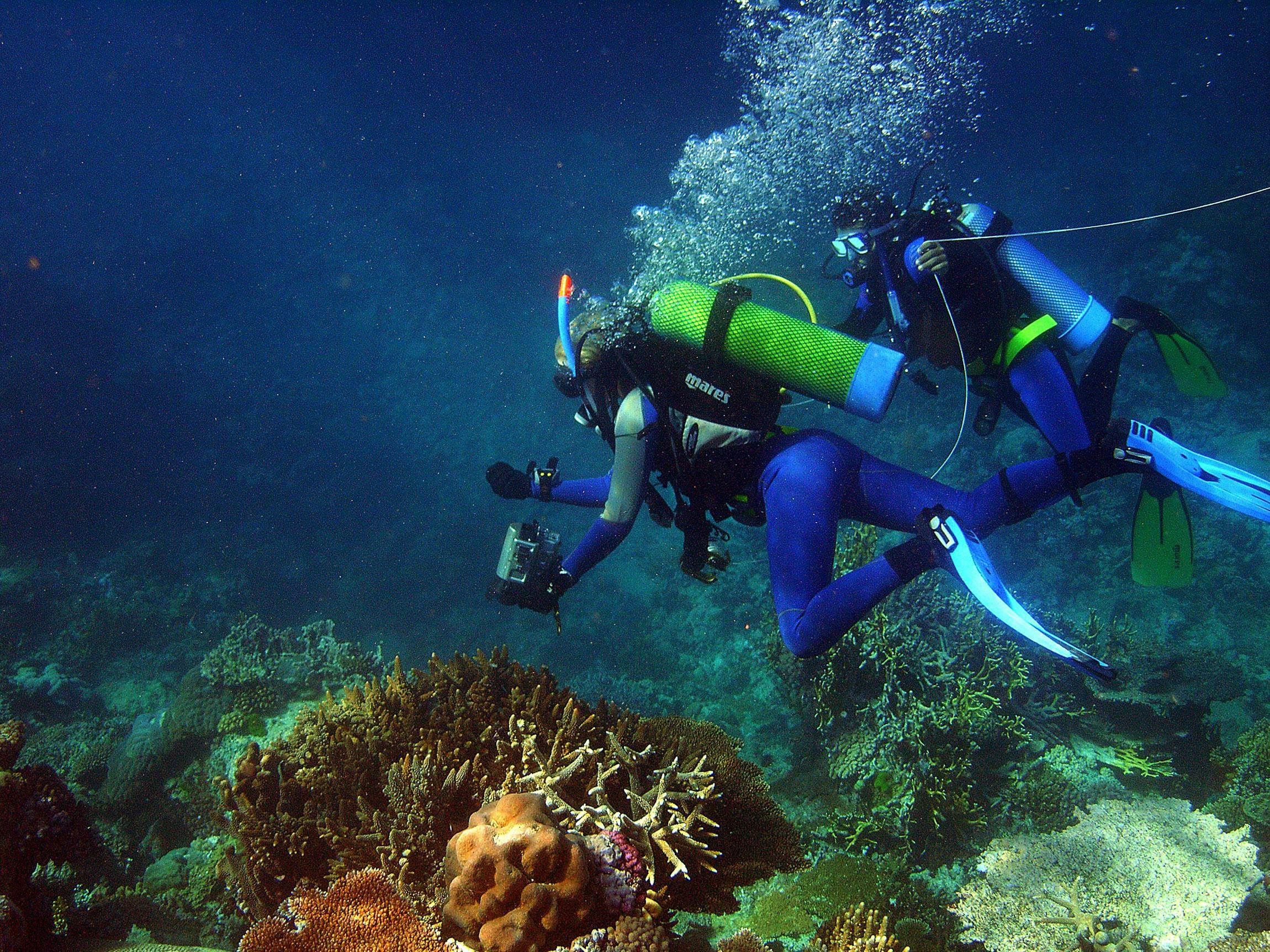 The Great Barrier Reef, the world's biggest barrier reef system, is one of the seven natural wonders. This world heritage-listed landmark in the Coral Sea is visible from space and is one of the world's biggest living constructions. It covers a vast region and has over 3000 coral reefs as well as hundreds of picturesque islands. So, are you thrilled to visit one of Australia's most wonderful tourist destinations with your loved ones?
Where to go:
You'll need to fly to Sydney or Melbourne (Sydney is immediately connected to New Delhi), then to Queensland's coastal cities like Port Douglas and Cairns. Various excursions will transport you to the reef from there.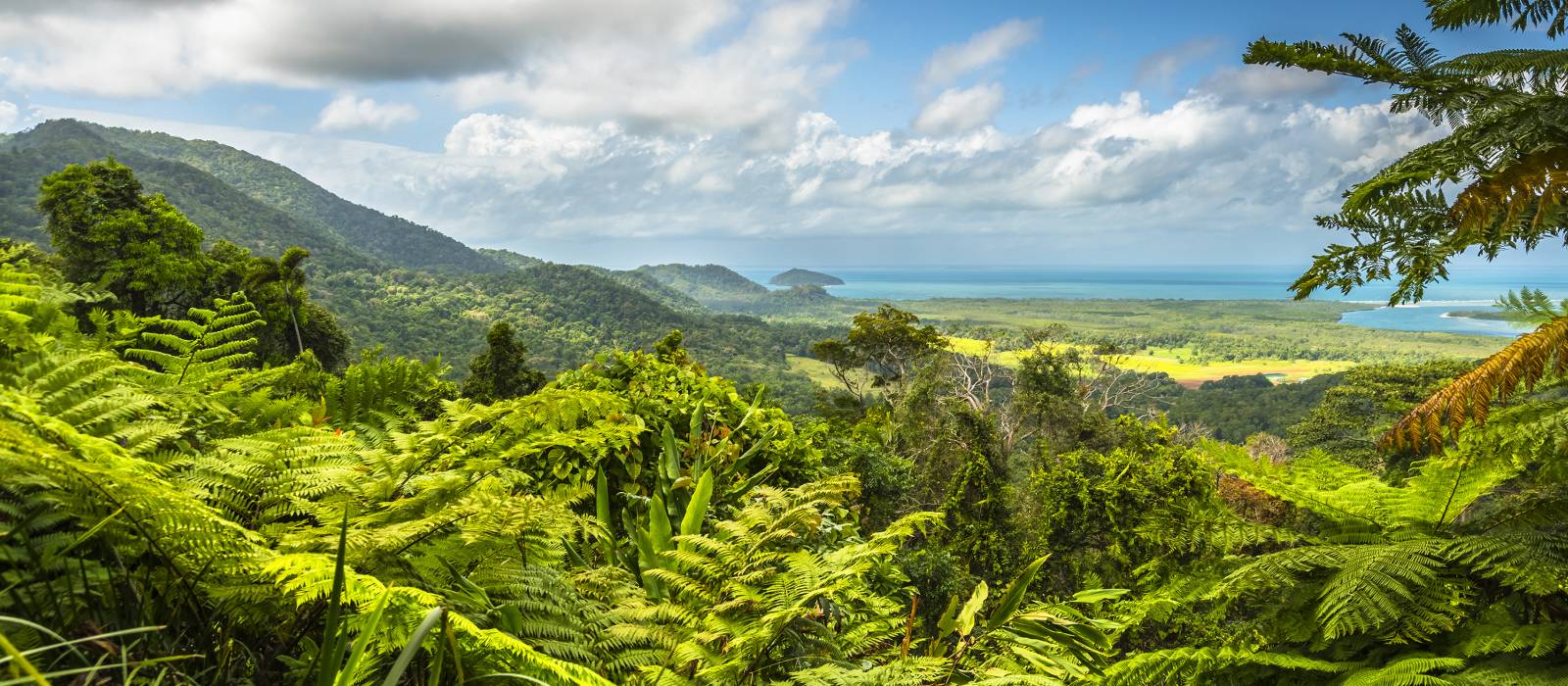 It is a Wet Tropics World Heritage Area because its environment is one of the most primitive in the world. This national park is located in Far North Queensland and is owned by the Eastern Kuku Yalanji Aboriginal people. Many of its qualities are spiritually significant to them. The park is divided into two sections. The first is the Mossman Gorge, where crystal blue rivers cascade over polished granite rocks.
Then there's Cape Tribulation, which is without a doubt one of the most magnificent spots you'll ever see when visiting Australia. Here, rain forests link with the reef that runs down the stunning expanses of the white shore, making it one of the few places on the earth that has two of the world's finest ecosystems. The park has around 18,000 plant species and animal species including crocodiles, Bennett's tree kangaroos, cassowaries, and enormous blue Ulysses butterflies.
What to do:
Take a guided tour, go on wildlife safaris, and bring a camera to take photographs of the animals.
How to Get There:
The Daintree National Park is roughly a two-hour drive north of Cairns or one hour north of Port Douglas. Year-round, day trips by 4WD or coach leave from Cairns and Port Douglas, or you may hire a vehicle and drive yourself.
Broome, Western Australia's Pearl Capital of the World, is a thriving tourist destination that serves as the entrance to the spectacular Kimberley area. Its primary draw is the Cable Beach, which is lined with infinite beautiful white dunes lapped by blue waves.
It is recognized as one of the greatest Australian beaches because the moonlight produces a unique optical illusion that gives the impression that there are steps leading up to the moon. Visit between the months of March and October to see a unique phenomenon known as the Staircase to the Moon. So, are you planning a trip to Australia one of the greatest destinations to visit in March?
What to do:
Camel rides into the sunset, Broome Crocodile Park, Broome Historical Museum, Horizontal Waterfall, Gibb River Road, Cape Leveque, Purnululu, Mitchell Falls, and National Park are all options.
How to Get There:
To get to Broome, travelers can take a four-wheel drive car down the Great Northern Highway from Perth or Port Headland. Although this is a well-maintained national highway, it will still take two or three days to reach Kimberley. Kununurra is another important port of entry into this region.